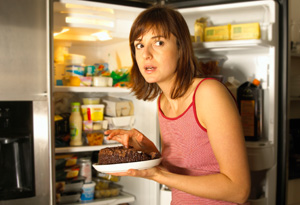 Controlling Your Cravings
You've just returned home from a stressful day at the office and you are absolutely famished. There are tons of healthy options to choose from in your fridge however you just don't have the time, energy and/or patience to spend an additional 30 minutes on your feet to fix yourself up a home-cooked meal today. Along with your hunger, you start to show signs or irritability. At this point you want something, anything, everything. As long as it's quick and easy you'll take it. So you pick up the phone and call in for a take-out. Pizza, Chinese Food, or perhaps some Thai. All are quick to make and can be delivered to you within minutes. And hey, you know that most Fast Foods aren't good for you and will most likely add inches to your waist line in the long term, but you find reason for your "Dirty Decision" by justifying it with the insanely hectic day that you've just experienced. So you place your order and wait patiently for your meal to arrive.

It's now later into the evening and you're watching TV. The show you're watching isn't very interesting and you find your mind starting to wonder. Your stomach still feels full from the four slices of pepperoni pizza you inhaled a few hours earlier yet you start to feel peckish. You get up off the couch and start to rummage through your kitchen cupboards looking for something to curb your cravings. Again, there are plenty of healthy options available yet you want something that is quick to make and in your mind, what you think will be extremely satisfying. A piece of fruit won't do it. That Greek Yogurt in the fridge just won't be enough. And those baby carrots? PLEASE!!! You want food! You want something with substance! You want.....SUGAR!

Read on